Forrest Gump quotes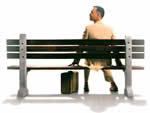 I'm not a smart man… but I know what love is. (Forrest Gump)
My momma always said, "Life was like a box of chocolates. You never know what you're gonna get. (Forrest Gump)
You know it's funny what a young man recollects? 'Cause I don't remember bein' born. I don't recall what I got for my first Christmas and I don't know when I went on my first outdoor picnic. But I do remember the first time I heard the sweetest voice in the wide world. (Forrest Gump)
John F. Kennedy: Congratulations, how do you feel?
Forrest Gump: I gotta pee.
The best thing about visiting the President is the food! Now, since it was all free, and I wasn't hungry but thirsty, I must've drank me fifteen Dr. Peppers. (Forrest Gump)
Forrest Gump: What's my destiny, Mama?
Mrs. Gump: You're gonna have to figure that out for yourself.
One day it started raining, and it didn't quit for four months. We been through every kind of rain there is. Little bitty stingin' rain… and big ol' fat rain. Rain that flew in sideways. And sometimes rain even seemed to come straight up from underneath. (Forrest Gump)
My momma always said you can tell a lot about a person by their shoes, where the go, where they've been. I've worn lots of shoes, I bet if I think about it real hard I can remember my first pair of shoes. (Forrest Gump)
Related quotes: